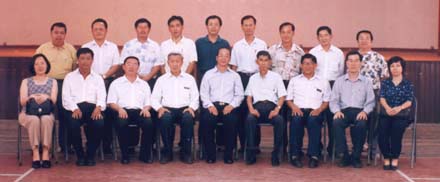 | | |
| --- | --- |
| Honourable Advisor: | Mr. Tan Swee Hueng |
| | Mr. Lor Chai |
| Advisor: | Mr. Lim Gin Hai |
| Chairman: | Mr. Chin Sai Peng |
| Vice Chairman: | Mr. Lee Boon Huat |
| | Mr. Tan Yong Seng |
| Secretary: | Mr. Tan Kong Liang |
| Ass. Secretary: | Mr. Loh Kooi Cheng |
| Treasurer: | Mr. Lee Far Li |
| Ass. Treasurer: | Mr. Goh Poh Chuan |
| Committee Members: | Mr. Lim Sai Leng |
| | Mdm. Cheah Lian Hong |
| | Mr.Goh Kit Chai |
| | Mr. Ng Chai Poa |
| | Mr. Tan Teik Leong |
| | Mr. Chuah Wah Teong |
| | Mdm. Foong Pek Har |
| | Mr. Hoo Boon Tat |
| Auditor: | Mr. Wong Chan Min |
| | Mr. Cheng Kong Beng |
Parent Teacher Association of
Chung Ling High School Butterworth
The Parent Teacher Association of Chung Ling High School Butterworth was formed on 25 April, 1992 ( Saturday ) at 2.00 p.m. in the school hall. Projects that have been carried out are as follow:-
Raising funds through " Charity Sales " for school societies.
Presenting book coupons / cash prizes as encouragement for students who represented school and won prizes in various competition.
Presenting souveniers to students who excel in PMR or SPM examinations.
Provide financial assistance to those who attend courses.
Sponsoring leadership camps for school societies.
Offering of scholarship to needy students.
Sponsoring instructions for clubs and games.
Donating RM 50,000 for the construction of toilets for students.
Purchase of 100 new tables for school staff.
Provision of additional facilities for the school.
Fund raising through school variety show.
Sponsoring students for study trips, competitions and exhibitions.